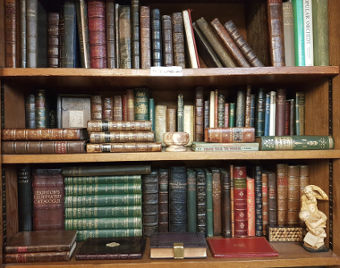 We specialize in theology and religious books including bibles and prayer books, as well as masonic books, but we also stock a wide range of other subjects.  We now have over 16,000 books online, with thousands of additional books on our shelves.
We are principally mail order and internet traders without a high street shop front, but visitors are welcome to see our stock housed in a large purpose built store  room. We are situated on the outskirts of the old town of Sudbury in the Suffolk Countryside. Please call first on 01787 373725
We specialise in the following areas:
Antiquarian Bibles and prayer books
Decorated Victorian Bibles
Latin and Greek texts primarily 16th and 17th Century
Masonic Interest
Religious memorabilia
Prints & Paintings with a religious connection
Suffolk Essex and Norfolk
We are also involved in the conservation of books and archival documents of all ages and subject
We are particularly interested in the purchase of libraries and collections, but offers of single items - including other subjects - are always welcome.